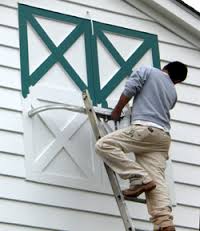 Spring time is here and the exterior curb appeal of your Glenview Real Estate will help when selling your home. The market is starting to pick up and you want to keep in mind that you never get a second chance to make a first impression. That is why it is so important to make a lasting impression and the exterior of your Glenview Real Estate is the first thing potential buyers will see.
Keep your lawn clean and groomed. No one wants to pull up to an over grown lawn full of weeds. Make it a priority to start the upkeep of your lawn at the beginning of spring so the maintenance will be minimal. If you don't have time, find a reasonably priced landscaper in your area. If you find someone who is already doing work in the area, you may be able to get a small discount since they are already in the neighborhood.
Mulching your plants will help to keep the weeds at bay and give a fresh look to your yard. Using bark, shredded fir, leaves, straw, or grass clippings around your plants will add to the curb appeal of your Glenview Real Estate.
Pruning trees around the house will allow for more natural light to flow into the house and brighten up the rooms. It also gives you the opportunity to get rid of any damaged limbs from the winter months, which can help keep the exterior of your home safe.
Painting the exterior of your home with a fresh coat after the winter months can make a huge difference when selling your home. If your entire home does not need to be painted focus on areas that may have been damaged by weather elements. Changing the color of your front door or garage door to add a little pop to your house and can help catch the eyes of buyers.
Repairing or replacing the roof, gutters and downspouts can be a huge selling point when listing your Glenview Real Estate. Buyers are most likely spending more money purchasing a home then they ever have. The last thing a new buyer will want to do is run into roof problems. Having the roof, gutters and downspouts in working order will help when negotiating the asking price of the home.
These are just a few suggestions that can help when you are looking to sell your Glenview Real Estate. The outside of your home is the protective layer, keeping everything clean and polished not only looks good for potential buyers; it also helps with the appeal of the neighborhood.
If you are looking to buy or sell your Glenview Real Estate now or in the near future, contact me, Marina Jacobson. I am your Glenview expert and I work for you.
Source RealtorMag