Selling Your Home With Marina Jacobson
Critical Elements of a Sale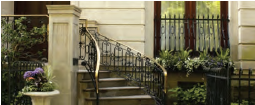 1. Asking Price
The asking price is normally the first consideration when beginning a home search. Depending upon market conditions, it is the starting point from which to negotiate the actual price of a home. The actual market value is determined by what a buyer is willing to pay.
2. Property Location
The proximity to area amenities and schools is typically a primary concern. In addition, street traffic, access to expressways and public transportation are major considerations.
3. Property Condition
The structural and mechanical integrity, as well as the upkeep and cosmetic appeal of a property affect a home price. Neutral décor, including floor and wall coverings, appliances and fixtures, offer the broadest appeal to buyers.
4. Market Conditions
Interest rates, competition from other properties, the economy and consumer confidence all influence the sale of a home. Each of these factors plays an important role in the ultimate purchase price of a home. An offer to purchase must be tailored in response to market conditions.
5. Contract Terms
The terms of a purchase can make or break the contract.  House sale contingencies, closing dates and inclusion of accessories or fixtures should be stated clearly and up front in order to avoid any confusion. Misunderstanding may affect the purchase and closing.
6. Marketing
When advertising exposure and market positioning are done correctly, your home will sell more quickly and will command a higher price. How your home is showcased online and the quality of websites in which it appears are part of a comprehensive marketing strategy. Aggressive Internet exposure is essential.
Understanding Agency Relationships
Buyer's Agent
A buyer's agent represents the buyer during the home buying process. The buyer's agent has a fiduciary responsibility to represent only the home buyer's best interest in all aspects of the home buying transaction.
Seller's Agent
A seller's agent represents the home seller. They may assist the buyer, but do not represent the buyer and must place the interest of the home seller first. The buyer should not tell the seller's agent anything the buyer would not want the seller to know because a seller's agent must disclose to the seller any material information known to the agent. The listing agent is the seller's designated agent.
Dual Agent
A dual agent has a responsibility to represent both the buyer and the seller ethically and honestly, safeguarding the confidentiality of both clients.
Listing Your Home With Marina Jacobson
Real estate agents are constantly on the alert for new properties to show to their active, qualified buyers. As a result, the majority of showing activity on a listing occurs when the home is first placed on the market.
When a property is first listed it generates interest. But after the initial group of agents and buyers has seen a newly listed property, the showing activity decreases. Soon it becomes limited to those buyers who are new to the market. For this reason, it is important to position your home at the best price during its first exposure to the market.
Marketing Plan of Action
First Week on the Market
– Enter listing into MLS system.
– Put up "For Sale" sign.
– Install lock box.
– Take property photos.
– Prepare property flyer/brochure.
– Submit Open House announcement to MLS & Office Sales meeting.- Submit
property listing with photos to select real estate websites.
– Handle incoming calls and schedule showing appointments.
– Update owner on showings.
Second Week on the Market
– Continue the same as week 1
– Schedule Virtual Tour.
— Broker's Open – Invite local Realtors to tour home.
– Prepare and place advertisements with select print and online media outlets.
– Sunday Open House
Third Week on the Market
– Continue updating websites
– Continue to market property on internet and networking with agents.
– Continue the same marketing strategy as week 1 and 2.
On-going
– Pre-qualify buyers.
– Present all offers and recommend counter-offer strategies.
– Review price based on agent input & market conditions.
– Continue heavy and aggressive marketing
ASAP
– Continue aggressive marketing and networking.
– Updating you throughout the process with follow-up and information.
Services You Will Receive
I will help you determine the best selling price for your home.
I will suggest what you can do to get your home in top selling condition.
I will develop a strategy to show your home.
I will enter your home in the Multiple Listing System.
I will implement the enclosed marketing plan.
I will talk with you to review progress periodically.
I will advise you of changes in the market climate.
I will present all offers to you promptly and assist in evaluating them.
I will monitor progress toward closing when a contract is accepted.
I will monitor the appraisal and buyers loan approval.
I will immediately advise you of events that may threaten closing.
I will coordinate and monitor the settlement process.